RECENT DEVELOPMENTS IN NANOTECHNOLOGY
02/14/2017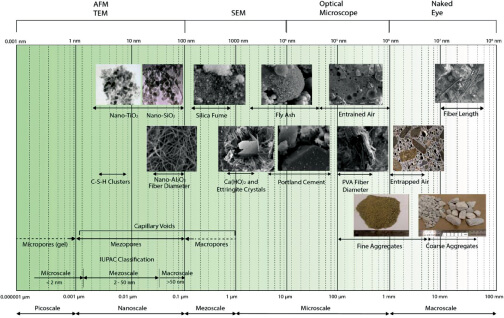 Committee 241 Nanotechnology of Concrete was formed in 2014 with the goal of gathering and disseminating information on the nanotechnology of concrete. The committee was formerly a subcommittee of ACI 236, Material Science of Concrete.
Nanotechnology is a multidisciplinary field of science and engineering focused on understanding and controlling matter at dimensions between 1 and 100 nanometers, where unique phenomena enable novel applications.
The committee—with the assistance of ACI Committee 236—has just released its first technical document—ACI 241R-17: Report on Application of Nanotechnology and Nanomaterials in Concrete.
The report presents information on nanotechnology of concrete, including recent developments related to investigation of nanostructure and nanodesign of cement-based materials, the effects of nanoparticles, field applications, and health and environmental safety concerns related to the use of nanomaterials.
Nanoscience and nanoengineering are commonly-used terms that describe nanotechnology applications in concrete. Implementing nanotechnology into concrete on a commercial scale remains limited. Some research developments, however, have been successfully converted into marketable products. The main advances have been in nanoscience of cementitious and pozzolanic materials, providing an increase in the knowledge and understanding of basic phenomena in cement at the nanoscale.
Examples include structure and mechanical properties of the main hydrate phases, origins of cement cohesion, cement hydration, interfaces in concrete, and mechanisms of degradation. Recent innovations in instrumentation for observing and measuring at the nanoscale are providing a wealth of new and unprecedented information about concrete. This information is crucial for a better understanding of mechanisms and factors influencing performance requirements, as well as predicting the service life of concrete and providing new insights for improvement.
"Nanotechnology has changed and will continue to change our vision, expectations, and abilities to control the material world," said Konstantin Sobolev, PhD, FACI, AMC, Chair, ACI Committee 241, Nanotechnology of Concrete. "The tremendous potential of nanotechnology to improve the performance of cement-based materials and processes is most promising."
The potential of nanotechnology to improve concrete performance can lead to the development of novel, sustainable, advanced cement-based composites with unique mechanical, thermal, and electrical properties. New developments have already taken place in nanoengineering and nanomodification of concrete. Current challenges, including proper dispersion, compatibility of the nanomaterials in cement, processing, manufacturing, safety, handling issues, and cost all need to be solved before the complete potential of nanotechnology can be realized in concrete applications. Additionally, introduction of these novel materials into the construction practice requires an evaluation and understanding of their potential impact on the environment and human health.
Learn more about Nanotechnology including online learning, journal articles, and special publications.
ACI Committee 241's new document fulfils ACI's strategic plan objective to proactively gather and share information on transformational ideas, practices, and techniques.